17-31 october 1999 Intermission toured Japan again.
Concerts: together with Tendai Shomyo (traditoinal Buddhism singing in Kanazawa 24-10,Okayama 20-10,Kobe 21-10, Kyoto 22-10,Nagoya 27-10,Yokohama 29-10 and more.

2000 Release new CD Kachéché Pan-records
Workshops in Italy and Holland.
2001 extended tour with' de Nazaten'and special guest Roy Campbell jr.
'Van New Orleans tot New Delhi' Radio recordings

2001: RISING Improvised Dance and Music. Project van INTERMISSION with dancers David Zambrano (Venezuela) and Toru Iwashita (Japan)

2002: tour with the Six Winds in
Holland (May and June) and Japan (July)
2002/2003: December 26 to Januari 10 exchange project :'Poku Kon Na Wan' with de Nazaten in Surinam
2003: Solo-playing Zuid NederlandsJazzFestival
2004: Solo-playing at The Empty Bottle Festival in Chicago William Parker/Roy Campbell and Rashid Bakr at the Fusion Art museum New York.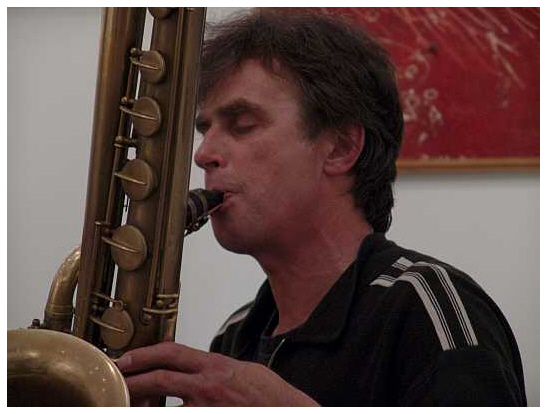 2004 With the Six Winds at the SummerJazzCycleTour in Groningen
2005: With De Nazaten featuring James Carter at the ZNJF
(Zuid-Nederlands Jazz Festival)
November 20 / 2005 in De Effenaar in Eindhoven
2005 Solo-cd YOLO label Strotbrock 501
2005/2006: 'Salting the lion's tail': Tour with De Nazaten and Pregalathan Singaram mrdangam in South Africa and The Netherlands
2006: With De Nazaten in televisionshow Vrije Geluiden of the VPRO.
2006: Also playing at the Poetry International Festival Rotterdam
2006: I initiated improvisors trio Klaas Hekman/Fred Lonberg Holm& Veryan Weston
concerts at the Vision Festival New York,
De Unie in Rotterdam, Bimhuis Amsterdam, SummerJazzCycleTour in Groningen.
Hotcub de Gent
2006 I participated in the sound- and artproject 'Sonora' by Rob Maaskant in
de Grote Kerk Veere.
2007: Solo-playing Korzo theater De Haag
2007   November 5 -19 tour with De Nazaten and James Carter